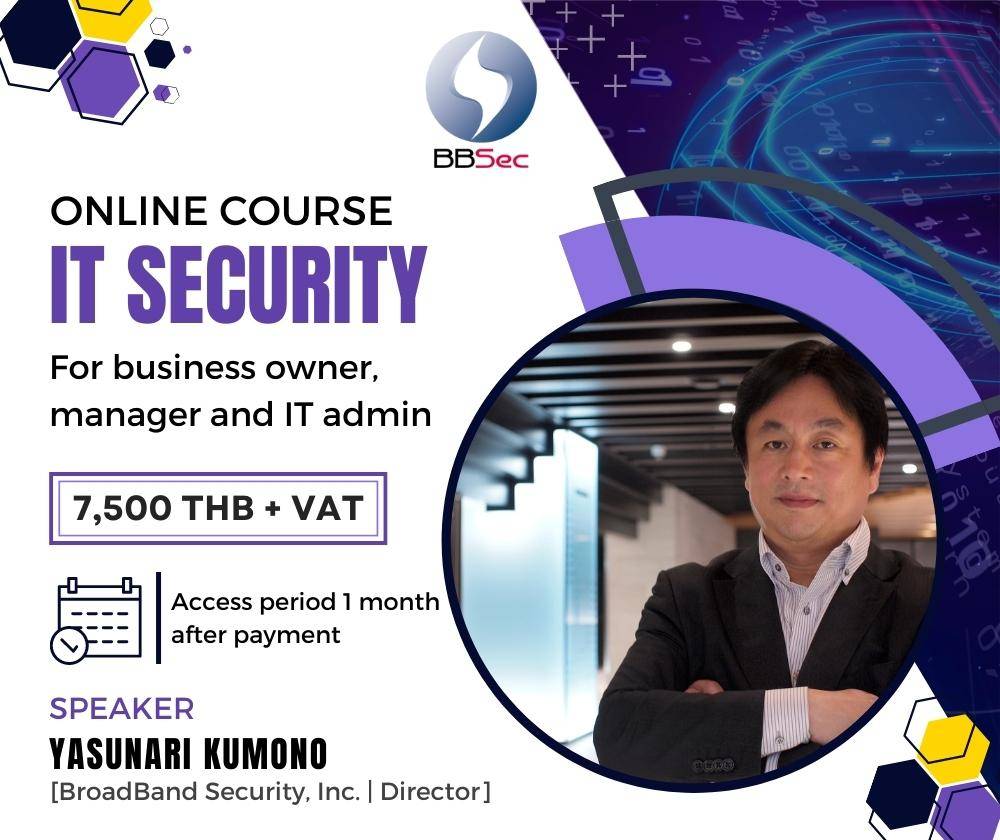 Many companies' systems had already been attacked by hackers and leaked information. Sometime also requested ransom and paid huge money to fix problems.

Nowadays, those problems continue to increase more and more. Therefore, this 1-day cybersecurity online training course by BroadBand Security (A Leading Aecurity Service Company from Japan), A cybersecurity expert will help you to see more of the overview of situation of Cyber Security in Thailand also point out problems and attack issues of each field of work which can be put in place for each issue effectively.
Example of online seminar cyber security Digital forensics
Cybersecurity Current Situation in Thailand
Staff's PC infected with a virus
Cyber attack to server or application
System was hacked and hacker requested ransom
Have experienced a data breach
Voice from Attendees ! Cyber Security 1 Day Training
Very informative. Personally, I don't have any knowledge in Cyber ​​Security because I mainly work in Hr Dept, but the speaker was able to explain and lead me to understand the whole picture better. I thought it meets the needs for what I've expected. Normally, the company may not have got a hacker or data theft yet, we also have an IT department to help take care of the system in organization. But having attended the training can make me have the basic knowledge too. It was excellent.
The training meets my expectations. In the training, each step is explained well, easy to understand. Now, we are not looking for specific solutions. Just collecting information on IT security and hopefully useful for future plans.
I got lot of informative knowledge about identity theft prevention and to understand the way to prevent from this training which can be applied to the retention of company data too. This training also let me know the basic management in case of data theft. It was a very helpful training !
Our company already has an IT team to help us about Cyber Security. But now, Our company often has vendors joining the the process of working. It turns out that the company has people outside the company that share the same system as us. So I don't know how much security there is now. So that's why I decided to attend the training to gain more knowledge. The company also has specialists to give personal advice if we got any questions or have problems too. Moreover, they can check the vulnerabilities of the system for us. Very cool.